New Releases


John Healy,
The Metal Mountain
---
288 pages, 234 x 156mm, paperback with flaps
isbn 978 1 901538 89 2
£14.95, plus £2.50 p&p; €17.95

Signed casebound edition of 75 with a new short story £45.00/€55.00

---
The Metal Mountain—etruscan's latest publication—is John Healy's long awaited and anticipated debut novel.


"An urgent, brutal and ultimately tragic resolution is waiting in the railside scrapyard of The Metal Mountain."
—Iain Sinclair
Read more about the book, and purchase your copy direct from etruscan here

.
---
Past Publications





Carlyle Reedy,
Epos, a Song for Alaric

A "Song" for Alaric Sumner, made with mobile components representing incidents, ideas and topics within a luminosity and shadings.

︎Add to Cart
Nicholas Johnson,
And Stood On Red Earth All A Round

A compendium of texts, including Pelt, Haul Song, The Lard Book, Pine Apple and Show.

︎Add to Cart





John Hall,
Keepsache

Unpublished and uncollected texts.

︎Add to Cart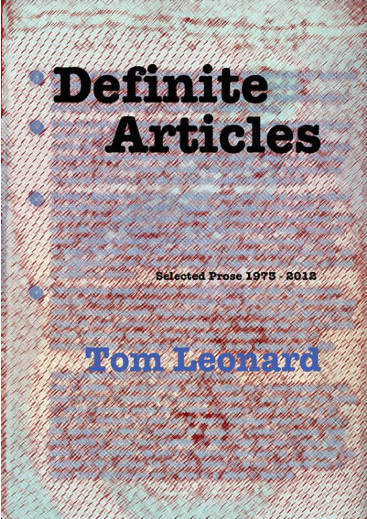 Tom Leonard,
Definite Articles

A gathering of Leonard's literary, political and personal prose written between 1973 and 2012.

︎Add to Cart

Fred Beake,
The Bees of the Horizon
This exquisite folio groups twelve translations from the French of Louis Aragon, Rene Char, Michel Deguy, Robert Desnos and Paul Valery.
︎Add to Cart
Brian Catling,
A Court of Miracles, Late Harping and Bobby Awl

Three books covering Catling's collected and uncollected poems.

︎Add to Cart

Bob Cobbing,
Shrieks & Hisses

A collection of Cobbing's concrete works.

︎Add to Cart

John Daniel,
Missing the Boat

Selected poems

︎Add to Cart

Ed Dorn,
High West Rendezvous: A Sampler
Excerpts from
'Rocky Mountain Spine,' 'Languedoc Variorum—A Defence of Heresy & Heretics,' 'Westward Haut—A Transit of the Far West.'
︎Add to Cart
Ed Dorn,
Westward Haut
"Westward Haut is a poem of the Plains, using 1-80 as the kind of spine of the east and west. I'm treating it like the longest strip town in the world.
It's just like the motorized western expansion, but now it's not covered wagons and horses. It's people burning oil."

—Ed Dorn (2012)

︎Add to Cart

Foil—Defining Poetry, 1985-2000

Edited by Nicholas Johnson, this extensive anthology gathers 33 poets and prose artists whose work defines contemporary attitudes to poetics.

︎Add to Cart

David Gascoyne,
Letter to an Adopted Grandfather

An eloquent, moving and 'naked' piece of writing, almost shocking in the excoriating honesty of Gascoyne's rigorous self-examination.

︎Add to Cart

Bill Griffiths,
A Book of Split Cities

Long poetic sequences on the reversion of the city; the evolution of the suburb; and the city in revolution.

︎Add to Cart

Bill Griffiths,
A Tour of the Fairground

This collection brings together many of the finest of Bill Griffiths' longer poems, including two quite new sequences, 'A Tour of the Fairground' and 'The Violinist.'

︎Add to Cart

John Hall,
Else Here: Selected Poems
John Hall's poetry is razor sharp, cool & witty.
Else Here
possesses a classical finesse in reviving Tudor poetry & subtle adaptations of
Projective Form
.
︎Add to Cart
Nicholas Johnson,
Listening to the Stones
New Caledonia is a French territory in the Pacific. In the 1980s the indigenous Melanesians sought independence. This work documents superstition, colonialism, and Chirac-sanctioned execution during that period of insurrection..
︎Add to Cart
Tom Leonard,
access to the silence
With the publication of
access to the silence
, Etruscan Books has restored the collected poems of Tom Leonard to print.
︎Add to Cart
Tom Leonard,
intimate voices

Selected poems

paperback edition out of print.
Cased edition, with additional material, lettered A-Z, still available for £35.

︎Add to Cart

Tom Leonard,
outside the narrative

Outside the Narrative (Poems 1965-2008) contains what Tom Leonard wishes to retain in print of the poetry in his two main collections Intimate Voices (1965-83) and access to the silence (1984-2004).

︎Add to Cart

Helen Macdonald,
Shaler's Fish

Selected Poems

paperback & cased editions out of print.

︎Add to Cart

Rebecca E. Marshall,
Ways to Disappear

Debut collection, in the etruscan 'exhibition' series.
Marshall's first book of wordfilms, includes a DVD of her film-poem Mortar.

︎Add to Cart

Stuart Montgomery,
Islands
Begun in the '60s, a piece of 'Circe' appeared in Poetry Chicago and the complete poem was published by Fulcrum Press in 1969. An early unfinished version of 'Calypso' was included in a Christmas supplement of the Poetry Book Society in 1976. Over the years Stuart Montgomery continued working on the poem which is now published for the first time as a complete poem. 'Sirens' was also written over many years. It was completed in the summer of 2004 and makes its first appearance in this book.
︎Add to Cart
Wendy Mulford,
and suddenly supposing
Selected Poems
︎Add to Cart
Maggie O'Sullivan,
red shifts / Waterfalls

Red Shifts is a multi-textual, full-colour book, punky, volatile & dissenting. Collage & mapping, underpinned by a visceral, tactile (un)nerving text.

Companioning the etruscan red shifts, this publication of the complete Waterfalls bookwork at last presents both books that compose O'Sullivan's poetic project her/story: eye.

︎Add to Cart

Tom Pickard,
Fuckwind

Introduced by Paul McCartney

Since High on the Walls (1967) Pickard's always been a lone wolf; a dynamic & volatile writer. Spacious, sparse and of so few syllables, his poems & songs are visceral, slipping roughshed with sparks off their heels. Evoking border ballads, the territory of the outlaw, the reiver—in talking-blues, rants, lyrics & love poems—Fuckwind is a collection of works that live with suss & study diversity in adverse conditions.

︎Add to Cart

Seán Rafferty,
Review Sketches & Fragments

The poems of Seán Rafferty, indifferent to fashion & almost if not completely unrecognised during his lifetime, have the distinction of being increasingly appreciated as among the most enduring written during the middle years of the twentieth century. Rafferty's poetry had long been admired by writers as diverse as Sorley MacLean, Harold Pinter, Hamish Henderson, Hugh MacDiarmid and Ted Hughes.

︎Add to Cart

Carl Rakosi,
The Earth Suite
Rakosi's voice is puckish, deep, earthed & crystal clear. His art is to create a myriad of elegantly paced voices soldered to a deep wit. His music & diction never falter.
"If there is any word that describes Rakosi's work of the past dozen years, it is joy. It is as if each poem he now writes were a gift, something above & beyond the life he has already lived."
—Paul Auster
︎Add to Cart
Carl Rakosi,
The Old Poet's Tale
Gathering work spanning 1924-98, an ambitious project featuring a key figure in the group of Jewish & Communist poets known as 'The Objectivists.' This book reconfigures previously published works, including 56 new poems & a new essay.
︎Add to Cart
Carlyle Reedy,
Epos

Selected Poems

︎Add to Cart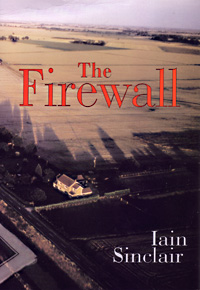 Iain Sinclair,
The Firewall

Poems

I recover my sense of London from these coded fragments in a way that considered prose pieces, fiction or essay, won't allow... I don't want to give nostalgia a good press, but unframed, uncrimped effusions call up corners of lost worlds that are still usefully remembered... If it's not lived experience, it's not in the movie. Cinema and its bastard offspring, television, is the addiction, always... They were the double lives I wanted most, film and poetry. These tight-lipped scripts are about not getting them. And about the world, its tender body, as a consolation.

—Iain Sinclair.

Not even the Thousand Handed Giant could easily turn over all the poems and open half of the portals of intelligence in this book... This is the landscape of another realm. We are walking over a raw and smoking surface filled with surprises. All around are the possibilities of lost tribes bustling in the shadows. The Firewall edges towards being a world rather than paper and pages. This is a rare jewel.

—Michael McClure.

︎Add to Cart
Iain Sinclair,
Saddling the Rabbit






︎Add to Cart